The 2023 Africa's Girl Child Dialogues, organised by Good Governance Africa and sponsored by Anglo American, Telkom and Boston Media House, took place on Wednesday, 11 October 2023 at Anglo American Corporate Offices in Rosebank, Johannesburg. The vibrant occasion, held on the International Day of the Girl Child, celebrated young women and their potential.
Building on the foundation laid in the previous year, which examined the holistic well-being of the girl child, the focus this year shifted towards exploring career opportunities available to women in the mining, ICT, and wildlife industries.
Experts from these three fields — all young, inspirational women who have enjoyed successful careers despite much adversity — shared presentations, provided advice, related how they became involved in their careers and fielded questions from the girls in the audience. Together with breakaway group discussions, this Dialogue made these sectors more understandable and accessible to the youngsters who might be thinking of becoming involved in them. Facilitators Mamiki Masilo and Andile Ndlovu kept the proceedings on track.
It wasn't an event filled exclusively with talking. A breathwork session kicked off events and a lively song that examined girls' and children's rights was delivered by some girls from Ekurhuleni schools. St Vincent's School for the Deaf provided three interpreters, who signed the entire conference. Ten of the St Vincent's girls ended the day's proceedings with a farewell display in sign language, and a basic lesson in sign language followed.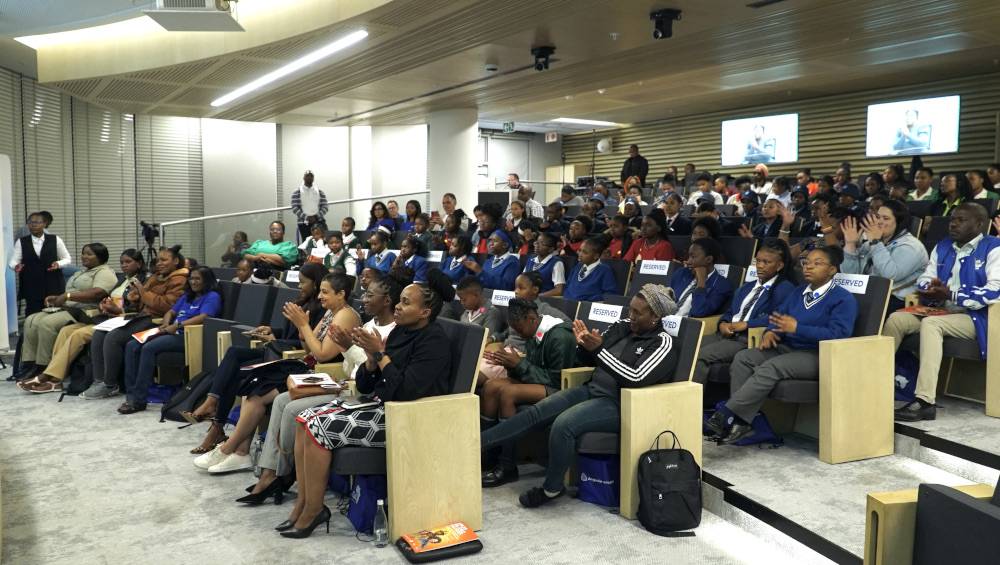 Dialogue
The keynote address was delivered by Chris Maroleng, International CEO of GGA, who pointed out that it was ironic that he as a man was called upon to speak on the topic which specifically concerned women. He said the women at the Dialogue represented the hope of the country and the potential for development.
Maroleng's mantra is that "our dreams are valid and are the fuel that drives our success". He said the girls in the room were selected because they knew how to grab opportunities, and despite poor governance, South Africa is filled with opportunities in the fields of mining, ICT, and wildlife conservation. These sectors were previously male-dominated, but are now "blank slates" and have jobs available for everyone. He reminded everyone that they are the architects of their own lives, and that together they can create meaningful change. In closing, he thanked the sponsors behind the campaign.
Linda Vilakazi, project sponsor, said the UN declared the International Day of the Girl Child to highlight the many challenges that young girls face, and for the countries they live in to help them overcome these challenges.
Dr Ela Manga provided a powerful lesson on breathwork. She said that working with the breath empowers the female body. Learning to work with your breath is a tool that enables you to navigate hard moments in life, like exams or interviews. Learning to speak properly, from the abdomen, gives power to the voice and your speech. Finding your power centre helps you to focus when you are distracted. She said that when women take care of their bodies, they can tap into their true potential and take care of others.
Simangele Soni, senior operations manager at De Beers Sightholder Sales South Africa, encouraged the girls to dream big. She outlined why girls should consider a career in mining. The industry directly employs half a million people in the country, and many more indirectly. Mining today is focused on sustainable development, working with communities, and on transformation. Women are making a big impact in the industry, which now has many female leaders. It is increasingly incorporating ICT and AI to improve its efficiency, and that provides many more career opportunities for women.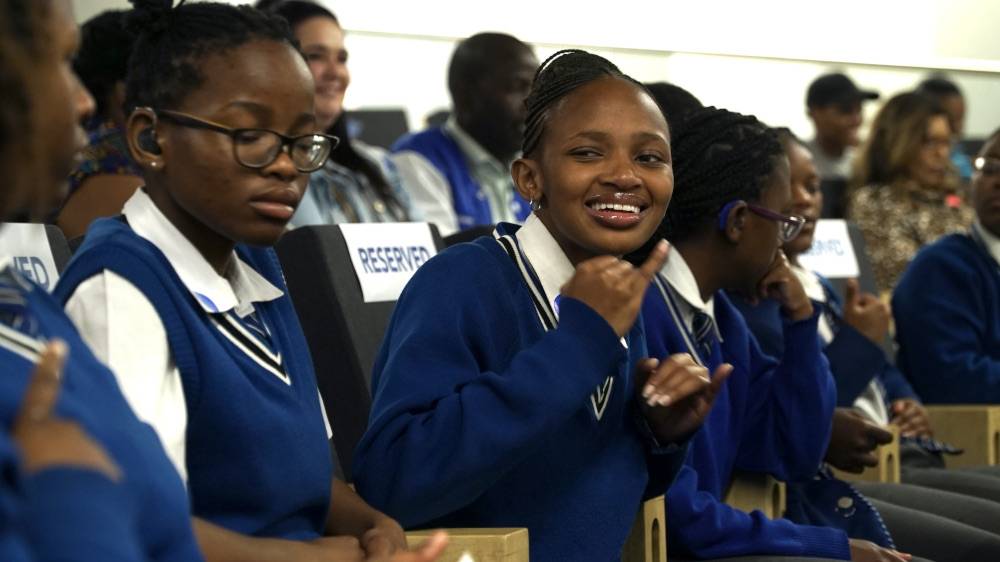 Soni said our early choices are important, and they must not limit us, but open up later so we can make other choices. Taking science as a subject at school enabled her to make many different career choices; she studied chemical engineering at university, with Anglo sponsoring her. The second lesson that she learned is that one must be open to receive advice from others; the third is that everyone is good at something, and that we must learn to help others to harness this unique ability.
Fourthly, she always said yes to any job that needed to be done, and this opened many doors for her. Fifth, having an open attitude enables you to learn new skills and handle any task. The greatest lesson is that "life is about people — take time to stop and actually see people — if you are going too fast, you don't see those who are walking with you". There is sufficient grace in this life, said Soni, and if you are given an opportunity, grab it with both hands.
Girls in mining
Marcel Korth, Anglo American principal: Gender Based Violence, asked the girls to discuss their impressions of mining. One girl said it suggested big men working hard underground, another said it was about extracting minerals. A third talked about mining's relationship to people and human rights. A fourth girl said many women are afraid of working in the mines because they are male-dominated; a fifth said the zama zamas (illegal miners) were a reality in her life; they were dangerous and threatened her community.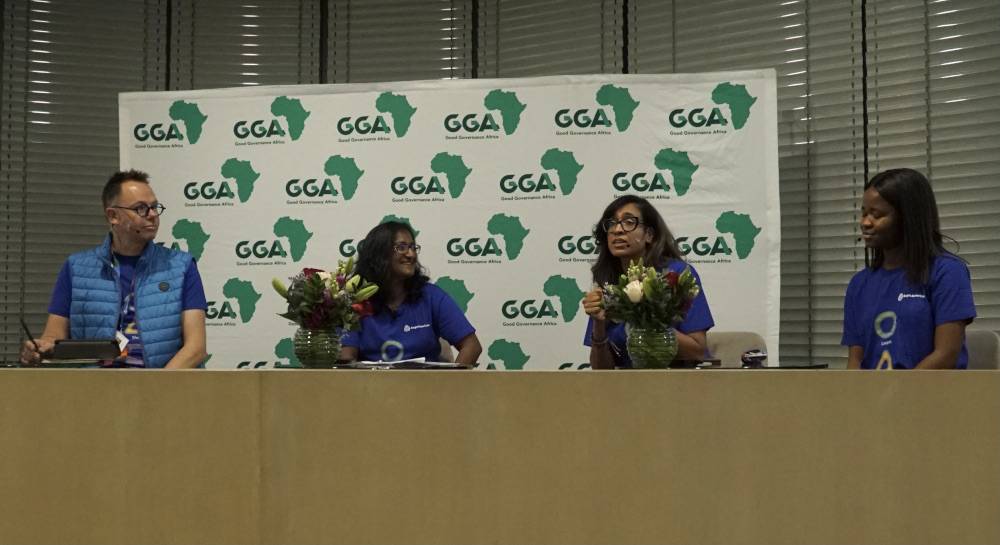 Korth said we need minerals to make, among other things, our cellphones, but they must be extracted in an ethical and sustainable way.
Vanessa Naicker, head of Learning and Talent (Platinum) at Anglo American, said that we can see mining through many different lenses. It is dark and dangerous, but it also provides essential minerals and jobs. Mining has sustainability; we need it for our civilization, and it will provide jobs for many years to come, she said. Her advice was to be curious and challenge the way you see the world. Naicker said she'd had many mentors and encouraged the young girls to be open to mentorship. Reading is a great way to learn, said Naicker, and so is using tools like Chat GPT.
Nkhensani Mabasa, a mining safety graduate, said her experience in the mining industry was that it was challenging but also rewarding. The graduate programme had equipped her well for what came later, but her biggest lesson had been that one should never stop learning. If you don't understand something, ask, she said. Don't be afraid to take on new challenges; there is always a way to push forward. Mining offers many opportunities; it was not just about digging out minerals, she stressed.
Larisha Naidoo, the head of Anglo American Zimele, said there were many opportunities available in the mining industry. She took on many tasks and this way learned how to solve challenges. Her work was with young people, teaching them skills that can be monetised. Her advice was to learn as much as possible and stay focused on your dreams. Keep a journal so that you can get to know yourself, and practise self-reflection, she said. While you are learning, put what you learn into action – "activate your bravery to do the things that you fear the most, which is when you really shine."
Girls in technology
In her speech, Toni Ramatswi from the Telkom Foundation touched on the topics of Artificial Intelligence, machine learning and deep learning, and the history of how we arrived at this technology. Machines, she said, will soon be learning from each other and one day arrive at Super Intelligence. China had rolled out AI on a big scale and was using facial recognition for tasks such as "paying by smiling" whereby you literally pay for a meal by smiling at a screen, which then uses facial recognition to debit your account.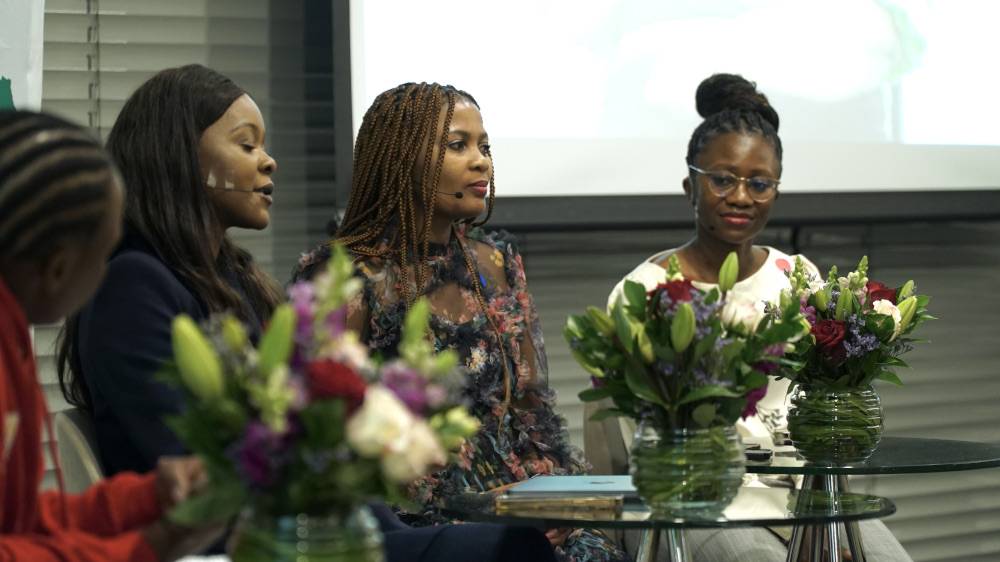 Where does Africa fit into the AI race between the East and the West, asked Ramatswi? She said there were "pockets of excellence" in Africa; in Ghana, for example, drones were being used to recognise crop diseases. AI needs to be trained to reflect what being African means, she said, AI would not always do tasks for our benefit unless we trained it to do so. Today, Ramatswi added, computer chips are being implanted in people's brains; soon we will be cloning body organs, and in the future, we may "live forever" through cloning, which raises many philosophical and ethical issues.
She told her audience that there were many job opportunities in the ICT field: just the fact that AI needed to be "policed" necessitated job creation. Every career you can think of can be linked in some way to AI, said Ramatswi.  In the field of beauty, for example, there were AI filters and avatars.
Sonwabise Mzinyathi, the Chair of the SA Women in ICT Forum, said she works on promoting women in the IT sector. Studies have shown that women often fall out of the ICT field because they can't see themselves entering the executive sector. There were also "boy's clubs" which had "meetings before meetings", which women were not part of. There were also cultural issues, especially around having children. The workplace might have changed when they returned from maternity leave, and as women were usually responsible for raising their children rather than their male partners, this created problems for them at work.
Rudzani Badza, a Southern Labs Institute of Technology graduate, said the IT field was very broad, and offered endless opportunities. For instance, being part of a system meant that you take on different roles as the system evolves. There are data analysts, project managers, people who test systems, and people who communicate with key stakeholders.
Badza said that any technological skill can be learned, but your attitude is what really counts. "Do it scared," she advised; be prepared to learn new things. Regarding mentorship, you must show that you are willing to be taken under a mentor's wing.
An audience member asked how technology will change our lives, to which Badza gave an example of a child who thought of putting solar panels on school bags, which enabled children to have power and study when they got home if there was no electricity. Technology has also created many jobs; there are now many delivery companies created because of the Covid lockdowns, which employed people to deliver food and other goods.
Girls in wildlife
Lewyn Maefala from Transfrontier Africa, has worked for many years for the all-women anti-poaching unit the Black Mambas and started the Bush Babies Environmental Education Programme. She said conservation was there to preserve our environment and endangered species, but people had to be educated about this work. Different methods were used to educate children about conservation, such as using puppets and touching snakes so that children overcame their fear of them. She mentioned the Scout and Bush Grannies programmes, and how they changed people's attitudes and behaviours.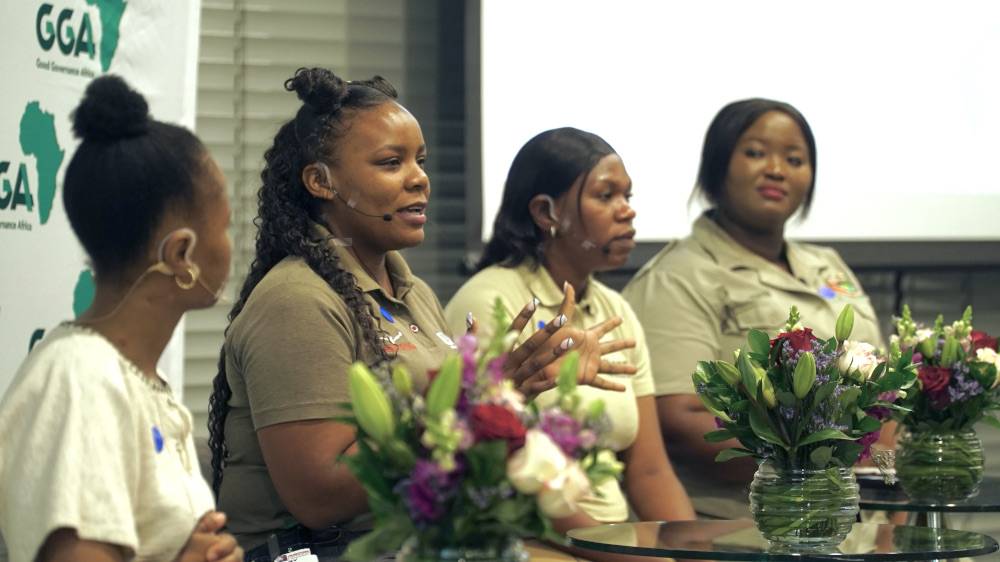 Maefala said the Black Mambas were her mentors, who patrol game parks with the Big Five without weapons and defy the usual role model of women "belonging in the home".
Promise Mkhantshwa from the Global Conservation Corps became involved in conservation and nature through her grandfather, who worked in the Kruger National Park. She met a guide who "spoke her own language", which encouraged her to pursue a career in conservation. She said there were many opportunities in the conservation field that didn't involve being in the bush. There were several universities that offered courses related to conservation, but you don't need a degree to work in this field, she said.
Lefa Malapane, also from the Global Conservation Corps, said one barrier to young women becoming involved in conservation was a lack of information. Many think it is a male-dominated field, she said, especially at the executive level, but this was changing. Technology was playing a role in conservation, she added, by tracking the movements of certain endangered species, for example, and for rangers to communicate with each other.
Wrap-up of breakaway sessions
Comments from the children included the fact that they had learnt a lot about the various sectors, but that there was still much to learn. The opportunities for learning were available, for deaf girls as well as those who can hear. The information was inspiring and motivating; a lot was shared, but the various sectors felt more attainable now. One girl said she had thought mining was something that men did, but she had learnt that women were making a big impact there. She now knew about bursary opportunities and realised there were opportunities in IT within the mining sector.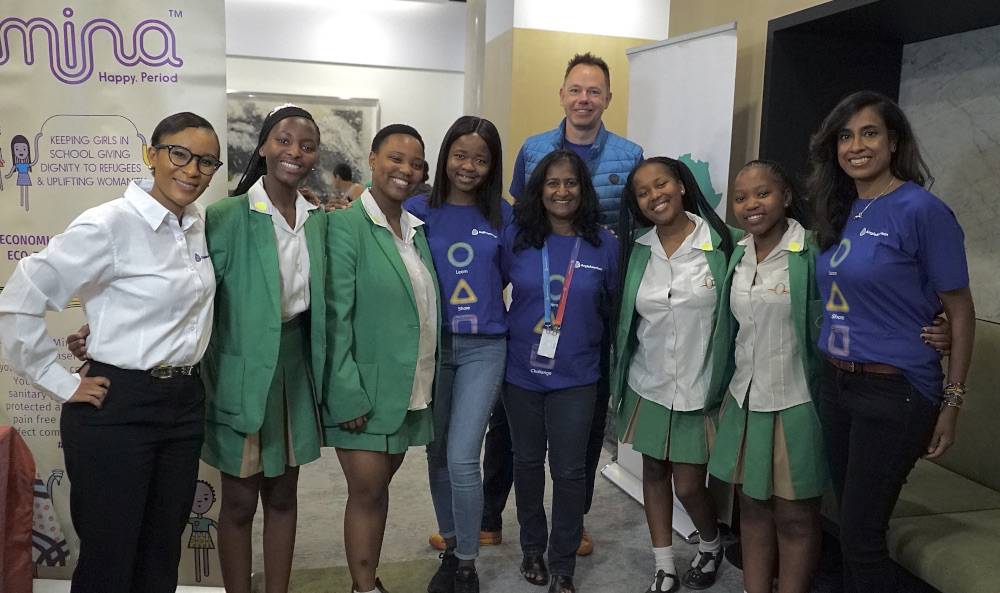 Closing remarks 
Kutlwano Selemale, employee engagement specialist at Anglo American, said the change South Africa needed was in the hands of the girls present: what you put in is what you get out. She thanked the sponsors and all the organisations involved: Afrika Tikkun, Mina Cups, Palesa Pads, uBambiswano and St Andrew's School for Girls, Rotary International, Aluta Null, the Mail & Guardian, Southern Labs, Transfrontier Africa, the Women in ICT Forum, Global Conservation Corps, and Boston City Campus, which made bursaries available.
This article first appeared in the Mail & Guardian.
Derek Davey is a sub-editor in the Mail & Guardian's supplements department.